Atlantica-db link about this Nation Dungeon:
Alcatraz Prison
Alcatraz requirements:
- 3 Attack teams
- Minimum 30+ people
- Minimum level 97+
- Formation : 6 Mercs + Main
Alcatraz Strategy:
The nation gate (
X
) is in the middle of the map, it is very important that everyone (not including attack teams) rush to the middle of the map and start defending the nation gate. How? By killing all the mobs around the gate. If a mob manages to engage the gate, join the gate battle as soon as possible. It is extremely important that you join the gate battle as fast as you can because Alcatraz gates aren't that sturdy, once most of the mobs are dead in the gate fight, start stalling the fight so the people fighting around the nation gate have time to clear the gate area of the remaining mobs.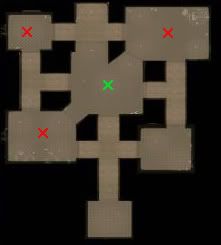 As you can see in the picture above, Alcatraz has 3 enemy gates (
X
). Hence the 3 attack teams. The 3 attack teams have to kill the enemy gate asap AND leave at least 1 or 2 towers alive. Why? Because you need time to clear the cellblocks. What are cellblocks? Cellblocks give out books and extra boxes. 4 Cells give out books, 2 cells give out 40 boxes each (More info below). In my opinion, skipping the cellblocks isn't a good idea, because the Al Capone floor is very hard without the books.
IMPORTANT
: Leave at least 2-3 towers alive. If people happen to run into the towers, tell them to run. It is extremely important that you keep those towers alive untill all the cellblocks have been cleared.
Concerning those towers. Kill all the mobs on the first floor, but leave a few towers alive. Towers do not move, so they cannot attack your gate. Which means your free to start clearing the cellblocks without having to worry about your nation gate getting engaged. Its better to leave a few towers alive because people tend to run into them whilst switching jail cells. Auto move is really retarded in Alcatraz if you switch maps.
Now, once the first map is cleared, here's what I do. I order 5 guilds into the A1 cellblock, the other 5 guilds in the A2 cellblock (depending whether the amount of people is even, so they clear the cells at the same time. If the amount of people isn' t even then I put 6 guilds in A1, 4 guilds in A2, etc etc). Once A1 is cleared, send the people from A1 to A3. Once A2 is cleared, send those people to B1. Once A3 is cleared, send them to B3. Once B1 is cleared, send them to B2. Every time you clear a cellblock you will get a message in your Nation chat.
So basically, make sure you complete 2 cellblocks at the same time to save time (Alcatraz only lasts for 1hour30min). This strategy is ok if you got around 50 people, if you got less, it might be better to clear the cellblocks 1 at a time.
(Only king gets those books and boxes)
Once all the cellblocks are cleared you should have around 30ish minutes left for the Al Capone floor (
Solitary Cell of Al Capone
). But before you go there you need to kill the remaining towers. Once the towers are dead enter the Al Capone floor and use the 4 books.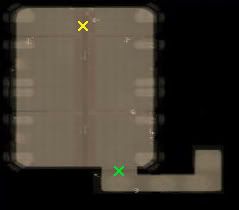 It is very important that you DO NOT stay behind the nation gate (
X
) on the Al Capone floor. Move infront of the nation gate as soon as possible. Why? Because your nation gate is EXTREMELY fragile on this floor. If your gate gets engaged on the Al Capone floor, there is a VERY high chance that you will fail Alcatraz. So this is why you DO NOT stay behind the gate but move infront of it and stop the incoming mobs from engaging your gate. The camera can be very annoying here so use wasd keys to help you move infront of your gate.
There are no enemy gates on this floor. There are a few mini bosses on this floor which aren't that hard to kill. However, even with the 4 books used,
Al Capone
(
X
) can still be abit tricky so order your best team to kill him.
And that's it lady's and gentlemen, you have succesfully completed [field]Alcatraz Prison[/field].
Please note that this strategy is based on my own, other kings might run Alcatraz differently.
Additional Information:
Alcatraz mobs :
Central Block :Cellblocks :Solitary Cell of Al Capone :
xXWilliaMXx / WillyBear from Myc server.